As we discussed about the final fate of electronic waste (e-waste) produced nowadays (Do E-waste really get recycled?), a new report from the United Nations provided statistics to give us some insights.
Reported by UN's International Telecommunication Union, in 2016 we discard 44.7 million tons of electronics in the forms of smart phones, computers, devices and cables. Only 20 percent of it is known to be recycled. The value of the whole gigantic dump is estimated to be $55 billion.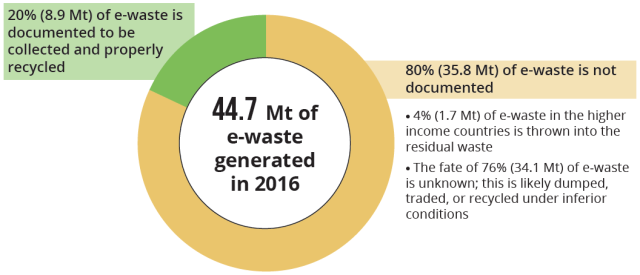 One takeaway is that 1 million of e-waste is just power adapters and chargers. Your laptops and phones ship with them, often in their own standards (Dell's adapter may not be used with Lenovo's laptop, for example). It emphasises the need of having a standard across the companies in order to reduce the need of producing chargers that we don't need.
Read the whole report here.